A Brief History of the International Breathwork Foundation
The International Breathwork Foundation is a world-wide network of people from different traditions and professions who are inspired by and interested in the practice of Conscious Breathing and Breathwork. The IBF warmly welcomes everyone who is interested in breathing as a tool for mental, physical, emotional and spiritual well-being.
The purpose of the IBF is to promote a heart-centred approach to Breathwork, its theory and practice, for the expansion of consciousness and for personal and global transformation.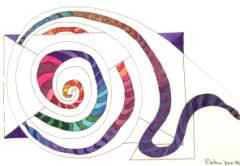 Breathwork in all its richness and diversity of forms has been developing and evolving constantly over the last thirty years. Although some countries have very active national associations and organizations for breath-oriented practices, international activities and global co-operation are still waiting to be fully developed.
It was with this understanding in mind that the original concept of the Global Inspiration Conference was formed by Gunnel Minett, author of Breath & Spirit (The Aquarian Press, 1994). In collaboration with Bo Wahlström and Lena Kristina Tuulse, founders of the Swedish Breathwork Institute, the first Global Inspiration Conference was organized in Sweden in 1994.
An important common desire emerging amongst participants at the first conference was to lay a foundation for closer international co-operation between people interested in Breathwork. The inspiration generated by this first meeting led to the birth of the International Breathwork Foundation. In the spirit of co-operation and cross-pollination, many minds are always better than one. This synergy has been carried over into IBF's ongoing activities.
The International Breathwork Foundation is now a large, active network representing more than twenty countries throughout the world.
Every year it holds an international gathering, the Global Inspiration Conference. Since its conception, conferences have been hosted in Australia, Austria, Belgium, Canada, Ecuador, England, Estonia, France, Italy, Mexico, Poland, Russia, Spain, Sweden, Turkey, United States, Venezuela, India, Ireland, Tenerife and South Africa.
The conference language is English with translation provided in the Spanish, Russian, French and usually the host country language.
During the conference, the International Breathwork Foundation holds its Annual General Meeting. IBF business discussions and voting take place throughout the week. All registered participants at the conference are welcome to participate in the IBF Annual General Meeting where all decisions regarding the future direction of the IBF and its relationship to Breathwork are made. By casting your vote here you can influence and shape the future of Breathwork in the world.
A panorama of some of the participants at the Global Inspiration Conference 2014 in Galway, Ireland: