The GIC is a unique annual event organized by the International Breathwork Foundation (IBF); the worldwide networking organisation for Breathwork practitioners and those interested in the healing power of Breathwork.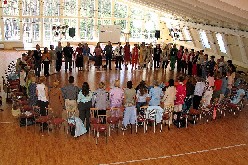 The conference is a rich and rewarding experience that fuels your enthusiasm for living more fully, creatively and courageously. There is something magical about spending seven days in the company of people who are excited about growing, learning and developing deeper awareness. Participants repeatedly express amazement at how much of this can happen during one week at GIC.
The event brings together respected keynote speakers and teachers worldwide who present a rich and diverse range of workshops each day. In addition to learning from these sessions, we dance, breathe, hug, hold and share honestly. The environment fosters great respect for each individual, providing a safe place to express our deepest thoughts and feelings about ourselves, each other and the world.
The event can be seen as a celebration of life, and attracts a diverse group of people: young and old, academic and creative, from all parts of the world. The resulting environment promotes healing of divisions, deepening of understanding and growing togetherness. Anyone who feels inspired to participate in this gathering, regardless of where they are on their spiritual journey or the extent of their breathwork experience is welcome to come.