Journey with us to discover your most imaginative self!
Explore, experience, and transform through IBF Breathing Arts online Creative Forums and Workshops.  We welcome both IBF members and guest master teachers to share a mindful exploration of conscious breathwork and creative expression!

Starting November 12th, 2022, we are planning a series of creative forums and workshops, to be held monthly on the second Saturday of every month.  For the Creative Forums we are inviting people active on the global breathwork scene, while the Creative Workshops will feature IBF members.  The Creative Forums and Workshops will be held on Saturdays at 6pm – 8pm CET.  We have chosen this time to make the event available at times suitable for Europe and the USA.  We have not forgotten those of you who live down under or in Asia.  For your convenience, for those who register and sign up, recorded versions of the creative forums and workshops will be available.  Your energy exchange donations will help advance the mission of the IBF in spreading conscious breathwork and support the initiatives of IBF Breathing Arts and other IBF workgroups.  Give what you can, we are grateful for your generosity!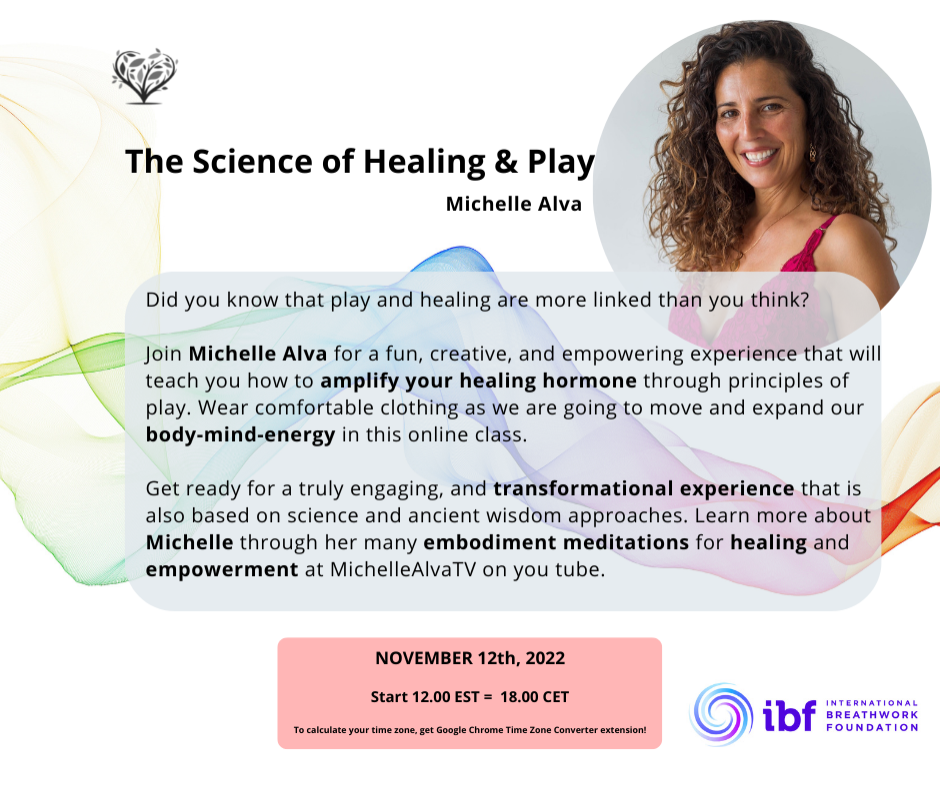 Sex, Love, and Intimacy Coach Michelle Alva has a background in physical therapy with a specialized training in Pelvic Floor, Pediatrics, and Pre/Postnatal-Women's Health, hypnosis, NLP (neuro-linguistic programming), Time Dynamics®, tantra, integrative yoga therapy, sound healing, Theta Healing, PSCYH-K®, mindfulness-based meditation, belly dance, and shamanism.
She created The ALVA Method (which stands for "Amplify Love Vibrate Abundance"), a mindset-energy and neuroscience based-approach.  Which is a process of self-discovery that integrates both modern science and ancient wisdom practices to educate and empower individuals on how to reset and calm their nervous system.  Heal and process unresolved trauma in the body, and elevate one's energy to experience major healing with minor effort.
This approach is also a global movement to raise the collective amount of love and healing energy on the planet! Michelle created online programs and a movement Awaken Your Feminine Body, and Deeper Connection Tantra for Couples, to heal the world of sexual shame and guilt and empower individuals to be their own source of healing and transformation.