Journey with us to discover your most imaginative self!
Explore, experience, and transform through IBF Breathing Arts online Creative Forums and Workshops.  We welcome both IBF members and guest master teachers to share a mindful exploration of conscious breathwork and creative expression!
Since November 12th, 2022, the Breathing Arts Group of the International Breathwork Foundation have been offering creative forums and workshops,  held monthly online on the second Saturday of every month.  The presenters are people active on the global breathwork scene including IBF members.  The Creative Forums and Workshops are held on Saturdays at 6pm – 8pm CET. 
For your convenience, for those who register and sign up, recorded versions of the creative forums and workshops will be available.  The events are free however your energy exchange donations would help advance the mission of the IBF in spreading conscious breathwork and support the initiatives of IBF Breathing Arts and other IBF workgroups.  Give what you can, we are grateful for your generosity!
Ready to unlock the true power of your breath?
Join us for an extraordinary virtual event that will take you on a journey of self-discovery and rejuvenation. Our expert facilitator, bestselling breathwork author Tom Granger, has spent years researching and studying the art and science of "Resonance Breathing" – an ancient technique that modern science is revolutionising the practice of. Not only is it fun; the technique has been shown to have profound health benefits.
Who is it for?
If any of the following apply… this event is for you!
You are looking for new ways to be creative with your breathwork practice.
You are a facilitator and wish to expand your knowledge/experience.
You just want to relax and have fun with like-minded people online.
You fancy a relaxed afternoon!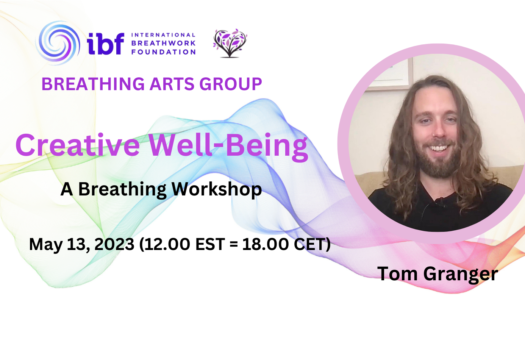 Tom Granger
is a bestselling breathwork author and innovator. He is on a mission to create engaging new ways to empower people to unlock the true potential of their breath.
His bestselling book "Draw Breath; The Art of Breathing" has been translated into 9 languages and has received multiple literary awards for its creativity and effectiveness in reducing anxiety. His approach to breathwork has been praised by leading experts in yoga and meditation, from James Nestor to Jon Kabat-Zinn.
Tom's passion for breathwork is what led him to create the popular YouTube channel "Draw Breath," where he interviews the world's leading experts in the science and practice of meditation. His guests have included Nobel Prize-winning scientists, Olympic Gold Medallists, and leaders and legends from the breathwork world.
His latest project, "Aria Breath – The Musical Mediation," is a large and growing library of beautiful music, designed to pace the breath at speeds that are known to have incredible health benefits. Perfect for individual use… but also ideal for breathwork professionals to use in their classes or one-on-one sessions with clients.
Tom's enlightening and empowering breathwork sessions are not only informative but also inspiring and transformative. He has been sought after as a keynote speaker, teacher, and creative consultant by some of the world's leading organizations, including Unilever, Kantar Group, and Lululemon. Based in Manchester, England, Tom is dedicated to spreading the benefits of breathwork globally and is passionate about making it accessible to everyone.