Spiritual & Psychological Qualities of Chakras
The chakras can be interpreted in many ways since they are portals which have access to different energetic levels:
Physical

Emotional
Mental

Spiritual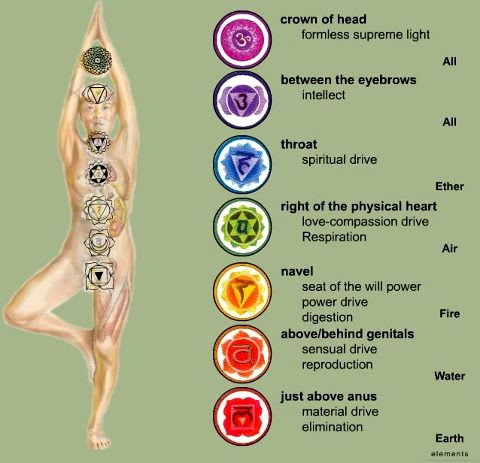 PURE UNFOLDMENT (ESSENCE QUALITIES) & DISTORTED UNFOLDMENT (WOUNDS) OF CHAKRAS
CHAKRA 7
The need to experience serenity and our perfection within our imperfections.
Essence – To be connected to Divine Mind and to understand the greater universal pattern. Direct experience of the divine, universal connectedness, soul awareness, spiritual knowledge.
Wound – "I WON'T CONNECT WITH MY LIGHT" – spiritual alienation, identification with personality, lack of contact with spirit, loner.
CHAKRA 6
Divine love and spiritual ecstasy.
Essence – Honouring spiritual feelings. Unconditional love, intuition, insight, wisdom, intelligence, ability to see the world in terms of process & flow.
Wound – "I WON'T SEE" – spiritual blindness, confusion, limiting beliefs, analysis rather than intuition.
CHAKRA 5
To align with Divine Will. To speak and follow the truth
Essence – communication, inspiration, resonance, speaking the truth about feelings and beliefs, using sound & toning, creativity [all aligned & expressed].
Wound "I WON'T SPEAK MY TRUTH" – holding back, choked up,chatterbox,not in truth, role player.
CHAKRA 4
Loving interactions with others
Essence – The need to give and receive love through many different relationships. Getting support.  Feeling good with others. Sacred love, compassion,acceptance, understanding, peace,, warmth, selflessness, grace & purity.
Wound – "I WON'T LET YOU IN" – hate, resentment, lack of self-love, loss & grief, social disconnection, hysterics, drama. 
CHAKRA 3
Needs related to understanding in a clear, rational way
Essence – responibility, self-confidence, fluid power, creative potential, strength, integrity, courage & dignity.
Wound – "I WON'T ACCEPT WHO I AM" – bad mental habits of self-judgement, based on negative thoughts we have about ourselves, lack of worth, core shame, victim, pusher, powerless, hiding, shyness, invisibleness, lack of confidence.
CHAKRA 2
Self-acceptance and self-love
Essence – joy, playfulness, passion, sensuality, sexuality, fire, innocence, connection, emotional spontaneity.
Wound – "I WON'T CONNECT WITH MYSELF OR OTHERS" – associated with our personal feelings about ourselves, bad emotional habits of self-rejection, repression of needs, inability to give, seriousness, defensiveness, needy feelings of abandonment, disconnection. 
CHAKRA 1
Simple physical comfort, pleasure and health. Relating through the senses.
Essence – safety, connectedness, abundance, incarnatedness, groundedness, reproduction, trust, vitality.
Wound – "I WON'T BE ALIVE AND VITAL" – ungrounded, fear, alienation, doubt, anxiety, collapsed energy, "not here".